Distilled
PEOPLE
Adelaide Vodka Semifreddo with Tori Falzon
16 Dec 2022 Australian Distilling Co.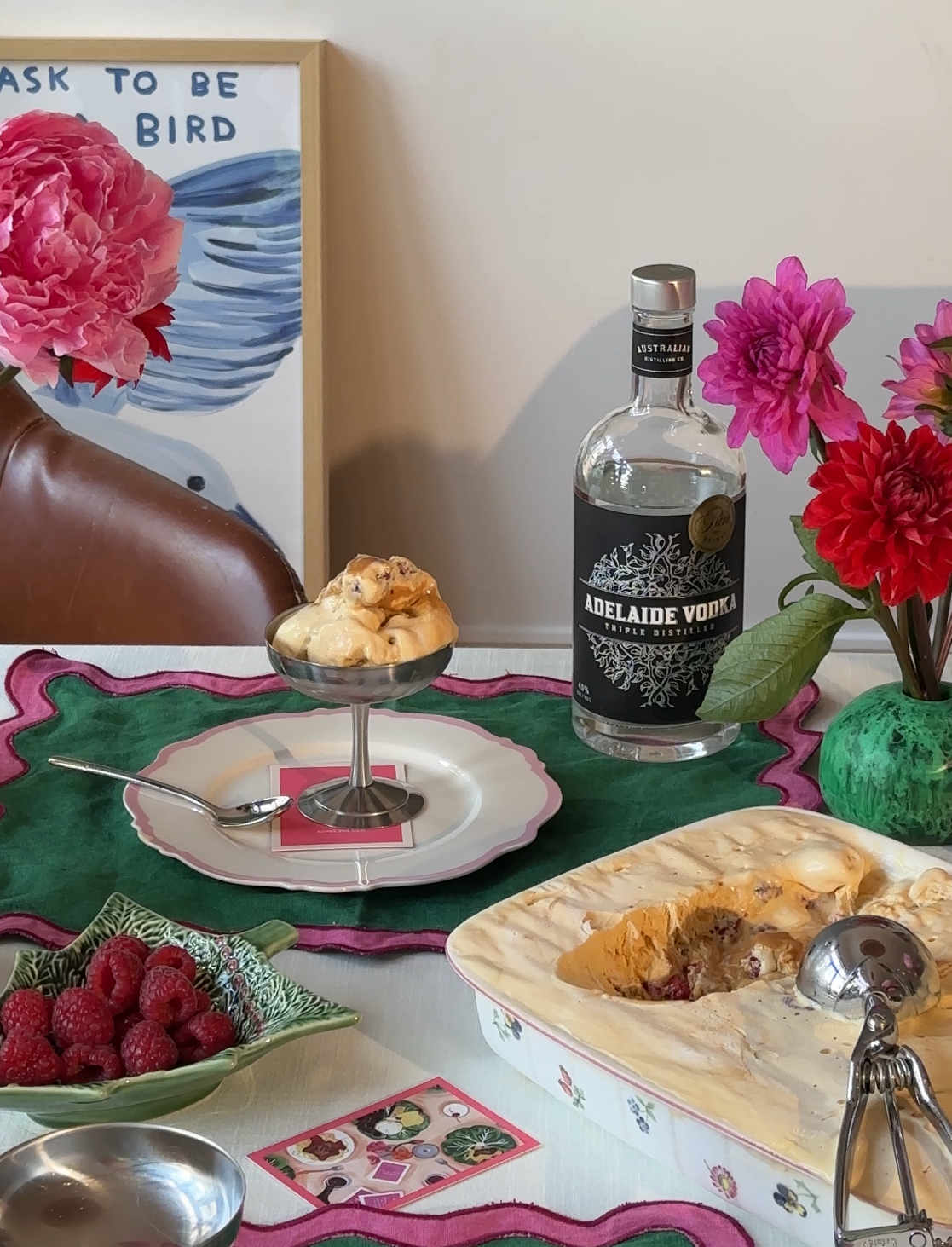 Create the ultimate dessert for a Summer's Christmas Day with Tori's Ducle De Leche,
Raspberry and Adelaide Vodka Semifreddo!
Ingredients
150g sugar
12 egg yolks
1 tsp vanilla bean paste
90ml thickened cream
3x punnets of fresh raspberries (around 375g), plus more to serve (optional)
2x 385g dulce de leche (such as Nestle Top n Fill Caramel or Bonne Maman Caramel Spread)
Method

1. At least a day before you want to serve, make the semifreddo so you it has time to set.
2. Bring a pot of water to a simmer.
3. Make a sabayon by whisking vodka, egg yolks, sugar and vanilla bean extrat continuously in a stainless steel/heatproof bowl the simmering water (make sure the bottom of the bowl isn't touching the top of the water or it will reach too high a temperature and overcook).
4. Whisk continuously until the mixture thickens and holds a ribbon (5-8 minutes).
5. Place the sabayan bowl on top of a larger bowl or pot of ice water touching the bottom of the bowl to cool, giving it a whisk occassionally to keep it smooth.
6. Whisk thickened cream until medium-stiff peaks form, then fold through cooled sabayan and half of the dulce de leche.
7. Fold through raspberries and spoon a layer into a serving dish or bowl, pour over another layer of dulce de leche and repeat until you reach the end. Each time you add a layer of dulce de leche gently swirl with a teaspoon to create ribbons of caramel throughout. You might do two layers if you're making it in a shallow dish or three if you're making it in a deeper bowl.
8. Freeze overnight then scoop with a hot spoon and serve with more fresh raspberries.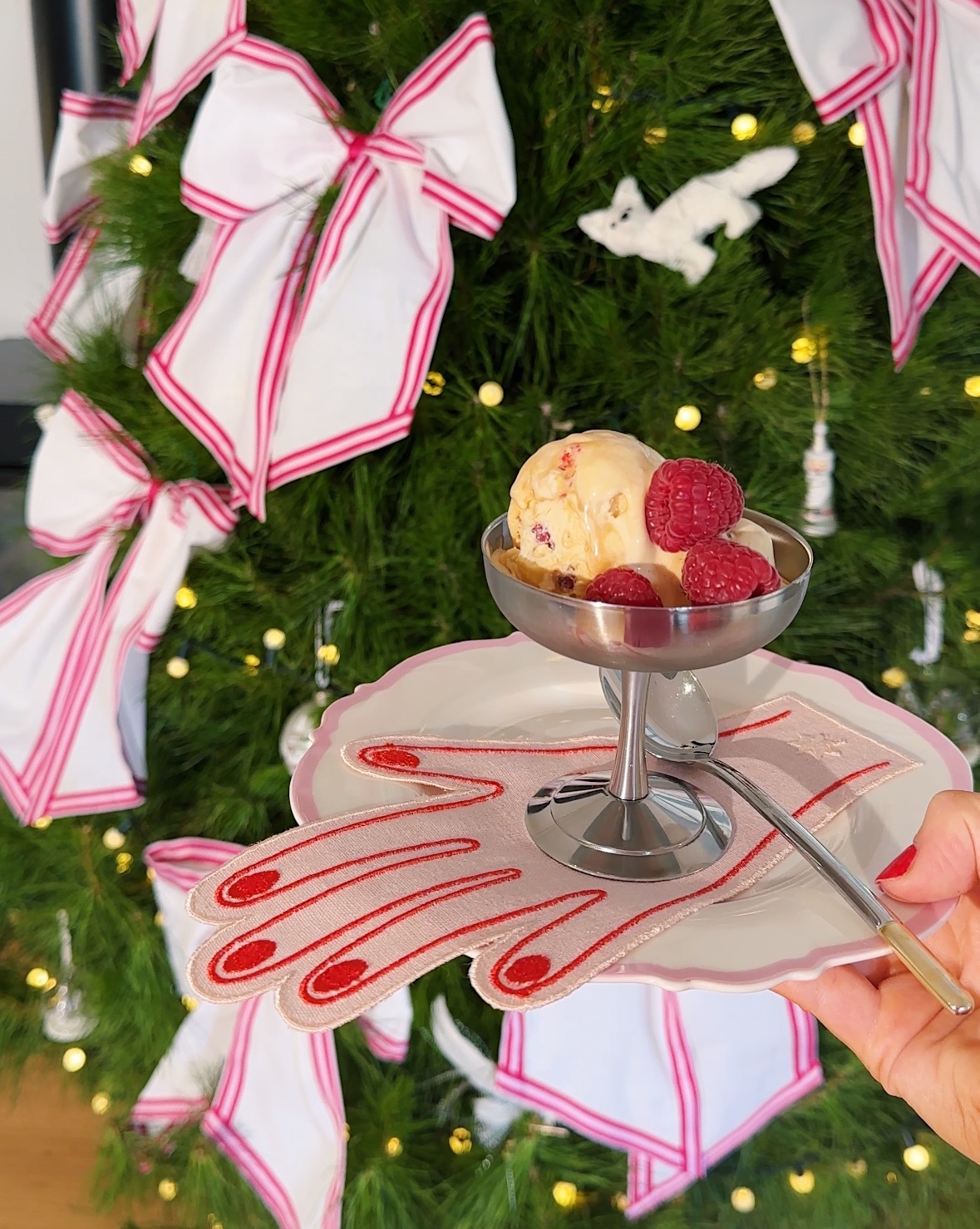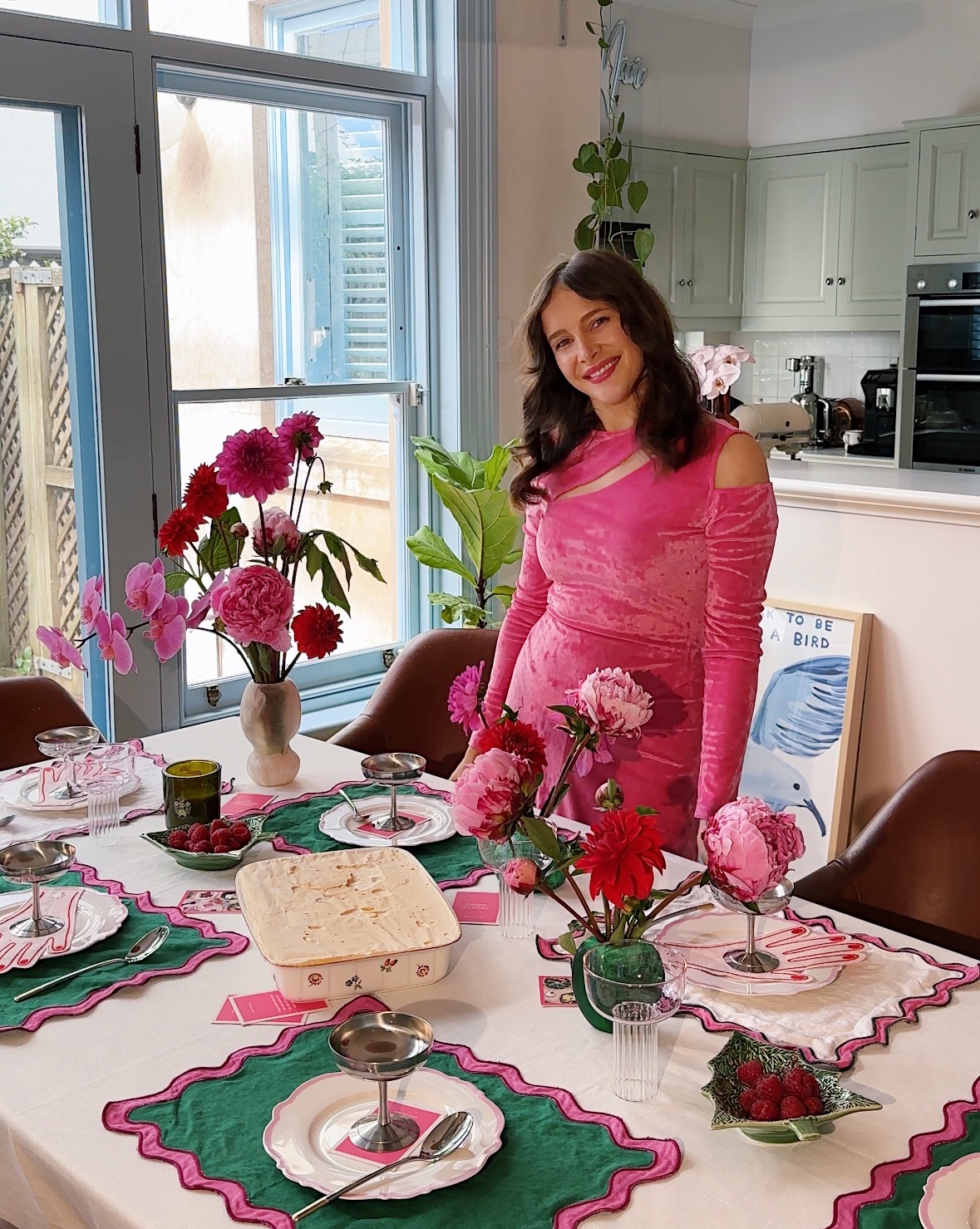 What inspired this dessert and why does Adelaide Vodka form such a key ingredient?
My vodka, dulce de leche, raspberry and white chocolate semifreddo is inspired by a warm Australian Christmas, where everyone is super full but always has room for ice cream. As we know from vodka pasta, Adelaide Vodka can work magic when it comes to evoking flavours in a dish - it works the same way when incorporated into a sabayon and semifreddo. Alcohol also doesn't freeze, so the vodka in this dessert contributes to beautiful qualities of the easy to scoop and ready to eat semifreddo (translation semi-frozen). I think it's a great dessert for Christmas because it can be made a day or two before and sit in the freezer ready to eat whenever, no assembly required.
What cocktail will you be serving on Christmas Day?
This Christmas I'll be making refreshing Moscow Mules, another favourite recipe of mine which can almost entirely be done in advance.
Moscow Mules
Ingredients (to serve six)
4x 330ml spicy, alcoholic ginger beers (or non-alcoholic if you prefer lighter)
2x limes
250ml Australian Distilling Co. Adelaide Vodka

Method
1. Pour the ginger beer into a tray or container that will fit in your freezer. It can be easier to sit the container in the freezer before filling so you don't have to move it full of liquid. When it freezes, it will expand slightly, so be sure to leave 1-2cms o room at the top.
2. Finely grate in the zest of one lime, avoiding the white pith and stir into the ginger beer. Cover with a lid or glad wrap and freeze overnight.
3. When you're ready to serve, remove the frozen ginger beer and use a fork to shave it into slushy pieces.
4. Fill glasses with the slush, pour one shot (44ml) of Adelaide Vodka, and squeeze a lime wedge into each drink.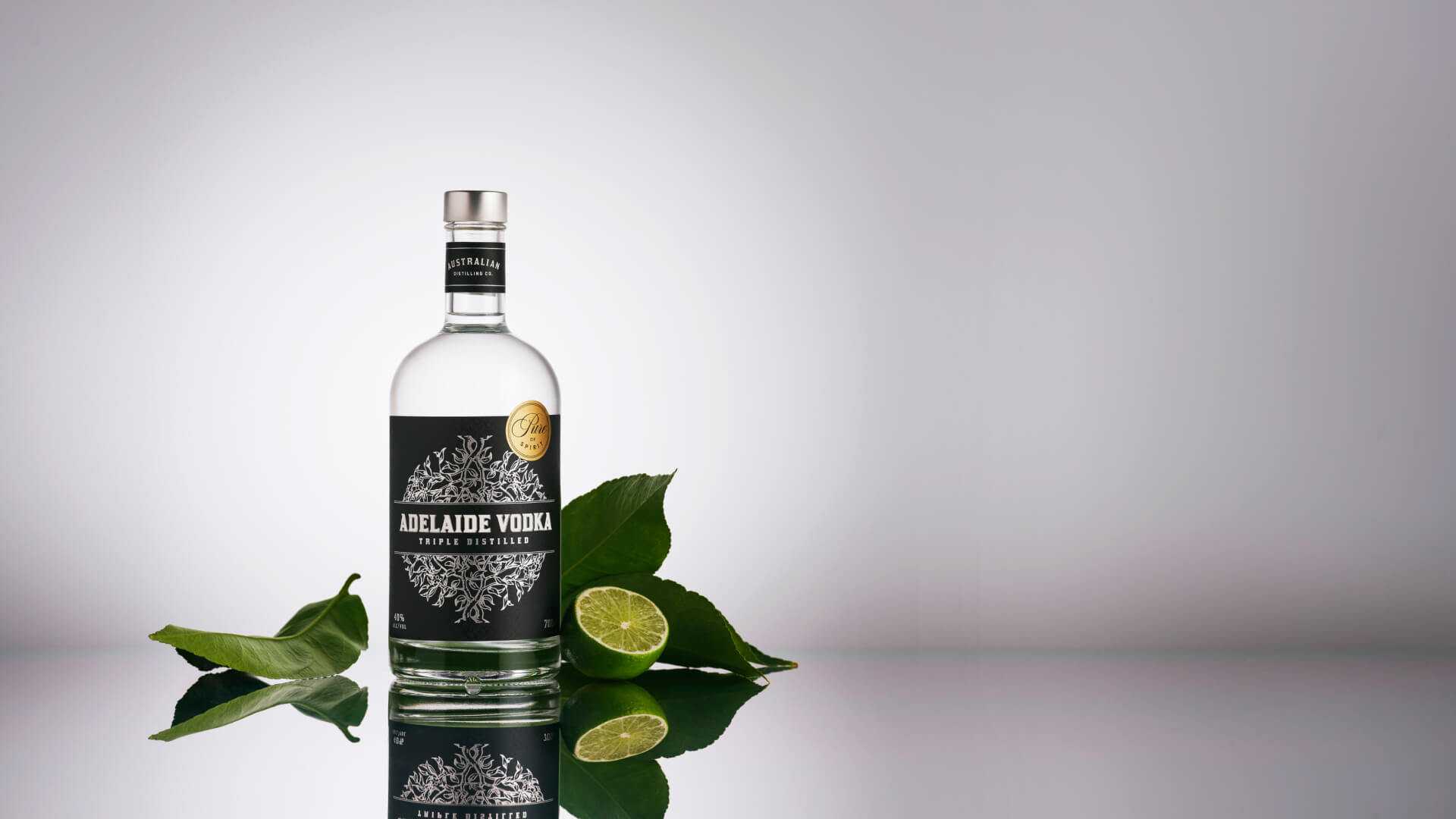 How will you be spending Christmas day this year?
I'll be spending Christmas Day at my house, social media free, surrounded by food and family, wearing a loose dress to accommodate lots of prawn cocktails. I'm so excited to unwind over the break and I love doing a beautiful Christmas tablescape, which I usually set up the night before so I can minimise any stress on the best day of the year (and look at it for longer)!
What are your top tips for hosting guests on Christmas Day?
Do as much as you can in advance, have a master to-do list with everything you need to achieve, and have two sections on it with what can be achieved in the lead up vs. what can only be done on the day. If you're cooking, have serverware assigned to each dish so you don't need to stress about what goes where on the day. Iron your outfit in advance. If you're making cocktails and require lemon juice or any other fruit juice or sugar syrup, do this all the day before too - you don't want to be juicing fruit on Christmas day. Lastly, relax, and if you make a mistake don't worry or even own up to it - you'll only bring your guests attention to it and they probably wouldn't have noticed anyway.
What are some of your gift ideas for the person that's impossible to buy for?
My dinner party conversation cards are such a perfect Christmas gift, they're so much fun to enjoy with family at the lunch or dinner table. A really good Chef's Knife, like the one from Shun, is a fantastic gift that I have gifted to almost everyone in my family and lots of friends. An Instax Photo Printer and some film is a great gift. I love my Ember Mug which keeps tea or coffee hot for over an hour, and it's absolutely not something most people would buy themselves. Lastly, a bottle of Australian Distilling Co. Gin or Vodka is always a great addition to any gift.