Distilled
PEOPLE
The Best of Adelaide's Bartenders Revealed
18 Aug 2022 Australian Distilling Co.
There's something amazing happening in the Australian cocktail world. Step into any of the country's celebrated bars and you'll see seasoned experts at the top of their mixology game, crafting masterpieces from small-batch local spirits, seasonal produce, and a host of other remarkable ingredients.
Created to shine a spotlight on Adelaide's – and Australia's – world-class bar scene, the judges of the inaugural Australian Distilling Co.'s Originals Cocktail Competition have crowned their winners, celebrating not only great drinks, but the people that make them.
For competition winner Dan Hayward Jarmyn, whose drink 'Feijoan Winter' was selected from the 16 remarkable finalists, shaken, and stirred together on the competition's thrilling final night at Bank Street Social in June. It's events like this that not only put Adelaide on the mixology map but help build a feeling of community during challenging times. "The hospitality industry has suffered in the last two years, and we need partners like Australian Distilling Co. to keep helping bring us all together." says Dan
Stepping out from his regular home behind the bar at Bank Street Social, a dim, buzzy underground speakeasy in the heart of Adelaide's West End, Dan brought together a collection of homemade ingredients – including feijoa butter and feijoa scrub – to create his wintery, fruit-forward cocktail, presented in a coupe glass with a macadamia and goji berry-lined rim.
"This drink is my ode to winter and a salute to memories of my childhood," says Dan of the cocktail that was selected by judges from over 40 entries, securing him the $5,000 prize as well as 10 litres of Australian Distilling Co.'s beloved Adelaide Gin for Bank Street Social. "The cocktail is inspired by my memories of the feijoa tree in the backyard. It's a combination of unique flavours to be enjoyed and savoured by the fire."
Central to the drink's wintery fruitiness is the Australian Distilling Co.'s popular Shiraz Gin, made by distilling gin with ripe Barossa shiraz grapes. "It's just incredible," Dan says of the scarlet-hued spirit. "I was very surprised by the sharp and lovely flavour that shone through as the hero of the cocktail."
"Dan created a drink that surprised and excited the judging panel," says founder of Australian Distilling Co. Michael Hickinbotham, "and just like our craft spirit business, where we reflect on the unique nature of Australia's cities and regions, our winner showed true originality."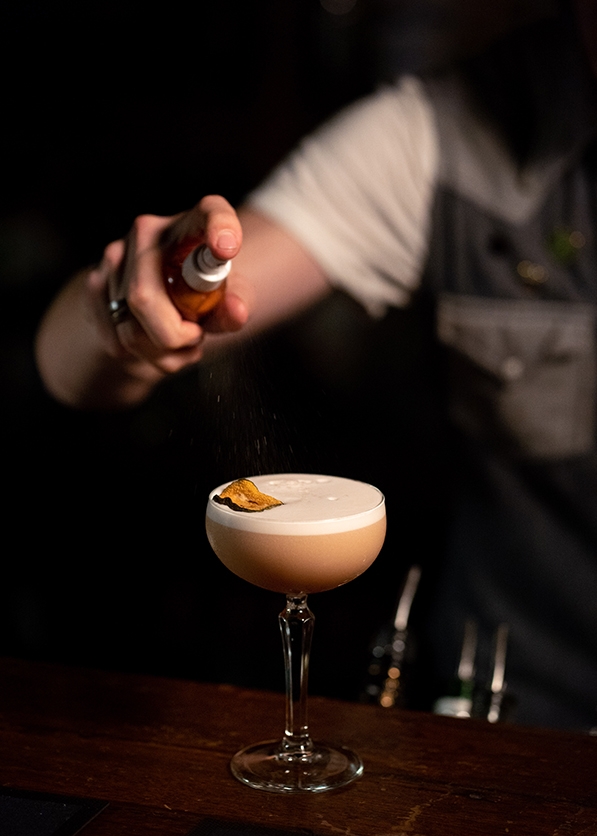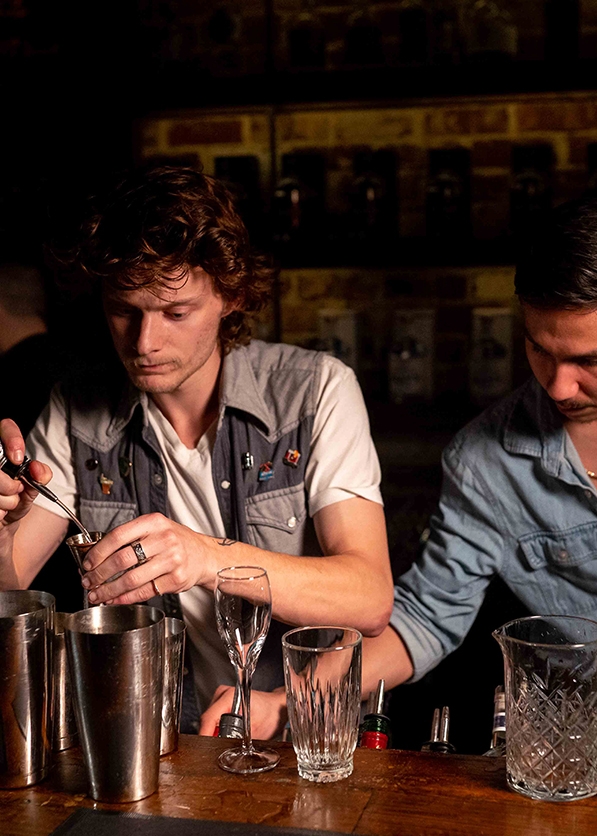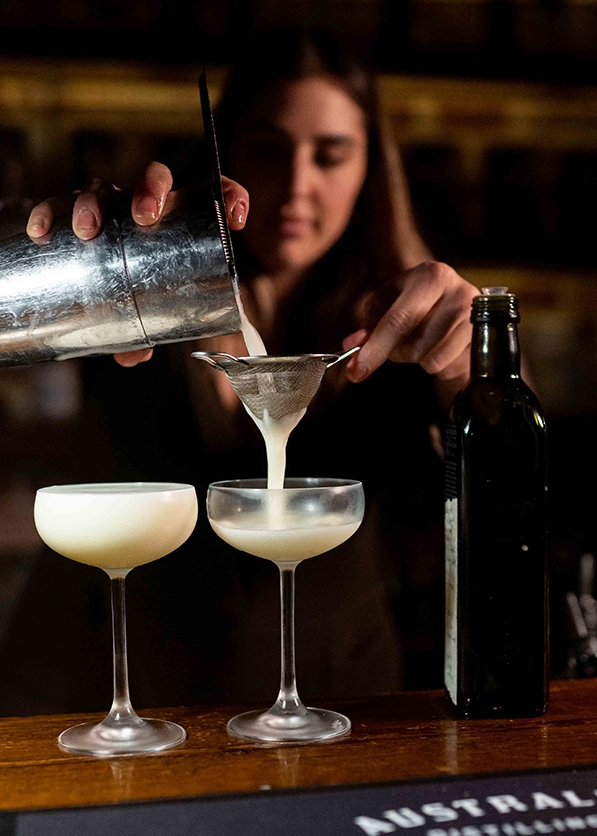 Feijoan Winter - the winning cocktail of the night by Dan Hayward Jarmyn of popular city haunt Bank Street Social. Winner Dan Hayward. Second place winner the Ginny Smith by Aleisha Zoumaras of Melt at Henley Beach.
Aleisha Zoumaras, bartender at Melt in beloved multi-storey beachside institution Henley House, was awarded second place for her 'Ginny Smith' cocktail; building on a base of Australian Distilling Co.'s 'Australia Gin' with splashes of granny smith-infused dry vermouth, Thai basil syrup and olive oil. "I picked Australian Gin as I wanted an emphasis on Australian flavours," says Aleisha, whose boss convinced her to submit her entry. Pointing to the inclusion of olive oil as a nod to her own Cypriot heritage, she explains that the drink came together as a "combination of simple, savory flavours that complement each other."
For judges Anna Vlach, Emily Atkinson and head judge Lee Potter Cavanagh, the competition represents not only an opportunity to celebrate cocktail culture, but also shines a spotlight on the booming South Australian hospitality industry. "The cocktail scene in Adelaide is currently experiencing a unique moment in time," explains bar owner and competition judge Lee Potter Cavanagh. "It's bringing people together to collaborate, create and derive inspiration from one another, which is rare, and quite simply amazing."
Emily Atkinson, whose work with internationally renowned drinks publication 'Difford's Guide' has seen her engage with cocktail scenes around the world, agrees. "The passion, enthusiasm and creativity in our industry in South Australia is clearly evident. The calibre of finalists and their cocktail creations is sophisticated and on par with their peers around the country."
She adds that the inaugural awards, which will be soon replicated across the country, have played an important role in solidifying the future of a recovering industry. "Australian Distilling Co. is leading the charge by delivering the Originals Cocktail Competition, which raises awareness amongst consumers, encouraging them to support the industry and reminding them of what we all love about spending time in small bars."
Feijoan Winter
Dan's winning cocktail was an ode to winter and memories of the feijoa tree in the backyard. A combination of unique flavours to be enjoyed and savoured by the fire.
INGREDIENTS
5ml Australian Distilling Co. Shiraz Gin
7.5ml White Creme De Cacao
1 tbsp Homemade Feijoa Butter
15ml Spiced Feijoa Shrub
20ml Lemon juice
Whites
method
Keep butter at room temp. Add all ingredients to shaker, dry shake extra long for 30 seconds. Add ice, and shake again for 15 seconds. Double strain into pre-garnished rimmed coupe glass.
ENJOY!